Ever since our last article about the rumors surrounding Samsung's upcoming Galaxy S8 smartphone, a tsunami of leaks have started pouring in about the upcoming flagship. Let's take one last look at the features which have been spotted so far on the S8, before it officially launches on March 29.
Big display, little body
Leaks from Winfuture have confirmed that the Galaxy S8 and S8+ will sport 5.8 and 6.2 inch Super AMOLED screens with a resolution of 2,960 x 1,440 pixels. Current users of Samsung Phablets may be put off by the phone's potentially extreme size, but we believe that Samsung is addressing the issue by following the thin bezel, 'infinity display' design language found in devices such as the LG G6, Xiaomi Mi Mix and the SHARP Aquos line. To make maximum use of the S8's front side without increasing its overall footprint, Samsung has relocated it's branding and fingerprint sensor button to the back.
The Galaxy Note 7 sandwiched between the Galaxy S8 (left) and the Galaxy S8+
To further increase the screen size, they've also completely done away with the physical buttons and instead gone with on-screen software buttons. It's no question that this change will take some getting used to, especially since Samsung users are extremely familiar with the physical home button. However, we believe that with the right implementation, software buttons can come in really handy.
Android manufacturers such as LG and HTC have implemented customizable software buttons in their previous phones. In addition, many third party Android OS developers have created solutions to tweak and theme these buttons even further – giving users the ability to place a toggle for settings, wifi, and even mobile data – along with the usual recent, home and back buttons. We hope that Samsung makes full use of the switch to software buttons and implements something similar!
Processor, Storage, Camera and Battery
Samsung will be most likely using the Snapdragon 835 and Exynos 8895 for the S8. RAM will most likely stay at 4GB, but internal storage should be upped to 64GB from the S7's 32GB, complemented with microSD support.
Although there have been no big rumours about the 12MP camera on the back, sources say that Samsung will definitely improve upon the Dual Pixel camera technology found in the S7 and Note 7 series, potentially offering slow-mo video recording of around 1000fps in the S8. As for the front camera, the S8 should have an 8MP shooter with an integrated Iris scanner which can unlock the S8 by scanning the user's eyes.
S8 will most likely a 3000 mAh battery, while S8+will recieve 3500 mAh. The capacity seems a little low to power screens and resolutions the S8 supports, but we'll reserve judgement as Samsung could have implemented better screen optimisation, and because these are simply rumours so far. Finally, Type-C USB charging is expected on S8; The Note 7 had Type-C USB 3.1, and we fully expect the S8 series to feature this port.
Accessories
Audio by AKG for the Galaxy S8
Image credit: Techrum
We previously speculated that the S8 would feature audio features by AKG, since Harman Audio, its parent company, was acquired by Samsung recently. This was confirmed during Samsung's press launch of the Galaxy Tab S3 – where officials took the opportunity to introduce a set of AKG in-ears which they said will be bundled together with the Galaxy S8.
The earphones use the standard 3.5mm headphone jack standard and feature a braided bottom section, which adds to its durability and makes the earphones tangle free. AKG has produced a plethora of great sounding personal audio devices in the past, and we expect that sound quality of these in-ears will be decent.
Charging accessories and desktop dock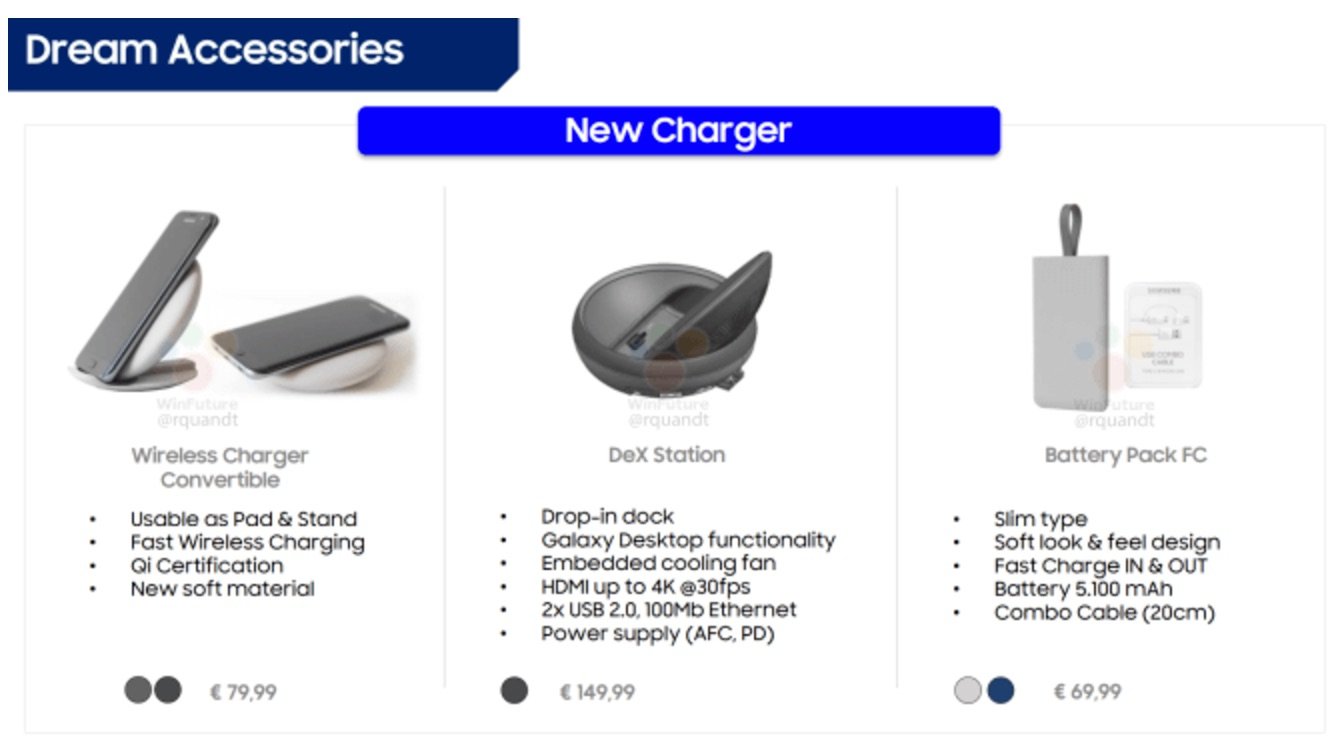 Image credit: Giga
It looks like Samsung will once again offer a Fast Wireless Charging Pad which charges via the Qi standard, and a newly designed Fast Charging Battery Pack with a capacity of 5,100 mAh.
The DeX desktop docking station has been confirmed, and appears to work as rumored – once the phone is plugged into the dock, it will allow users to interact with the phone via a desktop style UI called Galaxy Desktop.
This concept is very similar to Windows Continuum enabled devices, which enable users to perform tasks on PC on their phones – such as editing documents in Microsoft office, sending emails, and even playing games.
The dock has a HDMI port which can be connected to an external display like a monitor or a TV, and the S8 will be able to project up to 4K resolution at 30 FPS. The dock also sports a few handy features such as a cooling fan, 2 USB 2.0 ports, and even a 100Mb ethernet port. However, the accessories don't come cheap – if the prices above are to be believed, the wireless charger comes up to about S$135, while the DeX and battery back go for S$227 and S$120 respectively.
---
We're updating this article with more rumors as they come, and we will definitely be covering the S8 when it launches at 11pm tonight (watch it with us here!), so stay tuned to Thirty Seven Tech and our Facebook Page for more information!